Content of the article
September is approaching and for once, a longtime teacher isn't getting ready to return to class.
Content of the article
Derek Schlosser is retired after teaching in Whitecourt for 31 years, primarily as a science teacher and then developing local photography education.
"I think when it's really going to hit me is in September when I'm sitting in a tree with my bow hunting momentum instead of in a classroom," Schlosser said.
"It will be joyful, but…I really enjoyed my time as a teacher."
Schlosser taught at Hilltop High after moving to Whitecourt in 1991 and then to Percy Baxter School from 2005 to 2011.
He returned to Hilltop after that and taught there until the 2022 graduation ceremonies, where students remarked that he felt like Schlosser was graduating with them.
"It was always a running joke with the graduating class," Schlosser said.
Originally from Saskatchewan, Schlosser attended the University of Saskatchewan, where a guidance counselor suggested he become a doctor.
Content of the article
Schlosser said he quickly discovered that was not the right path.
"I was too social," Schlosser said.
"I didn't want to deal with blood and gore."
Because he enjoyed working with people and teaching young people, he realized that becoming an educator might be a better fit for him.
Schlosser and his wife found their way to the East Yellowhead area when she found employment in Barrhead, and he secured a teaching position in Whitecourt.
"We wanted to be in this area because there was hunting and fishing, and opportunities for an outdoor lifestyle," he said.
At Hilltop High Schlosser taught science, having a degree in biology with a minor in chemistry.
"The people and staff are wonderful, and we're creating a pretty welcoming and welcoming place for everyone," Schlosser said.
Content of the article
Photography has become a big chapter in his career
In 2000, Schlosser said he started "getting into" photography, joining the Alberta Professional Photographers Association in 2002. He received some training and "it grew from there".
In 2005, Schlosser switched to the Percy Baxter School.
"I just wanted a change, and it was a big change and good for my career," Schlosser said.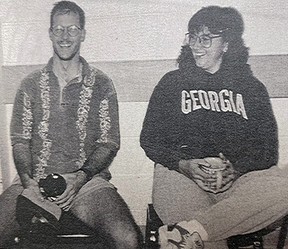 It was the desire to teach photography that brought him back to Hilltop High.
Hilltop High was being renovated at the time, and Schlosser told the principal that now would be a good time to add a photo lab.
A lab with Macintosh computers was built, and Schlosser said it was accompanied by brand new cameras and video equipment.
He said he started the Hilltop media program to teach photography and video, building it up to its current state.
Content of the article
Photography had previously been taught at Hilltop, but "in a limited capacity, a class here and there," Schlosser said.
"When I left, we had three photo classes and two video classes," Schlosser said.
"People really like it…and there's a desire for people to get into media arts.
Additionally, Schlosser continued to teach science to grades 9 and 10 during his final decade at Hilltop.
Regarding how photography became such a popular high school subject in Whitecourt, Schlosser noted how important Photoshop became.
"There's a lot of freedom to create," he said.
"Even though you can do a lot with your phones, there's still a need to understand exposure."
In-person instruction helps to understand techniques and develop a niche, he said.
Content of the article
The growth of digital photography also impacted Schlosser's own photography.
He said he does portraits of people, initially posed in his early days in the early 2000s, but now he has a photojournalistic style.
"When digital started, it opened up the market to do whatever you wanted to do," he said.
"Knowing how to use a computer and how to run a business became more important, and that's what I tried to pass on to my students."
One of the things Schlosser said he did with his photography students was take an annual trip to Edmonton, where they visited photography schools and photographed on Whyte Ave.
Schlosser enters its next chapter
This year's graduation ceremony felt like a graduation for Schlosser, as he said he was entering the "next phase" of his life.
He said he plans to continue as a substitute teacher, but thinks it's time someone else took the reins.
Additionally, he said he was planning trips to Quebec and East Asia, and has already traveled California and Oregon since retiring.
Schlosser continues to serve as a city councilor and he said he will now be able to join city committees which he could not do before because they meet during the day.
He said he thought it might be his last term.
"I have not ruled out running for mayor for the next term," he added.
"We'll see how it goes."